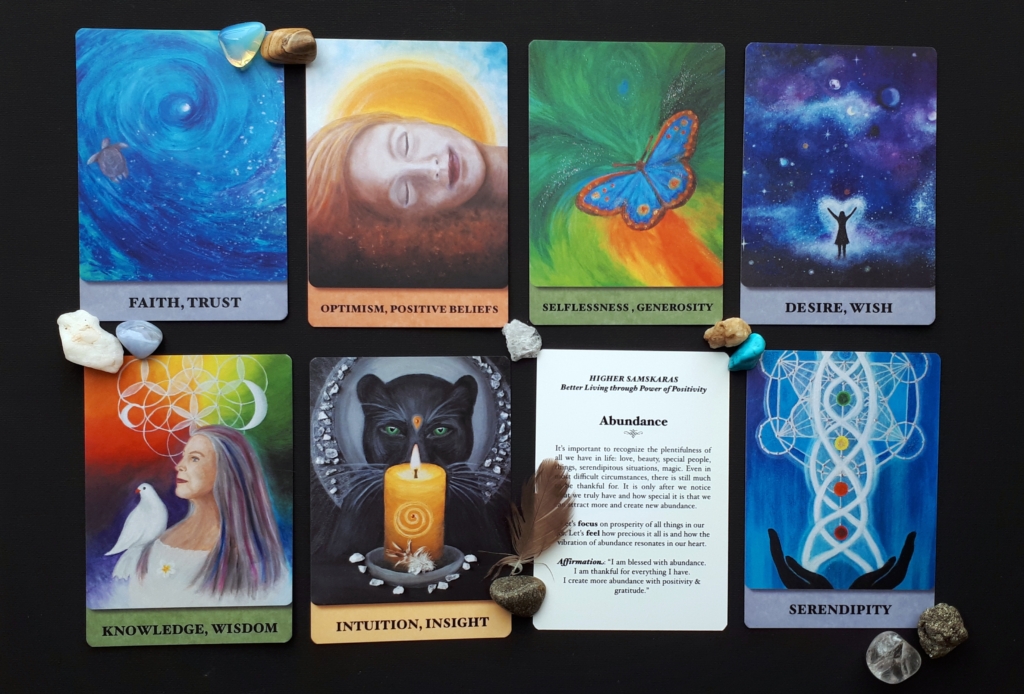 "HIGHER SAMSKARAS" Positivity Cards are here !!!
Higher Samskaras are concepts of high vibrations that form energetic imprints in our psyche. They help us create a positivity habit, build new pathways in our brain and release emotional blockages. Each card contains on the back a brief explanation of the concept, a section for our heart and mind, and an affirmation.
The cards have been created in Canada and printed in Italy by a solar-powered company using food-grade inks. Higher Samskara cards are 3.5″x 5″, have been printed on 330 gsm satin smooth, casino-quality paper. The cards have been varnished for easy shuffling and are tear and damage resistant.
Each deck contains 42 Higher Samskara cards and 3 instruction cards: a blue one with the list of all Higher Samskaras, a yellow one with the introduction to the concept of Samskaras, and a purple one with suggestions for use.
Each deck has been individually smudged.
For TESTIMONIALS click HERE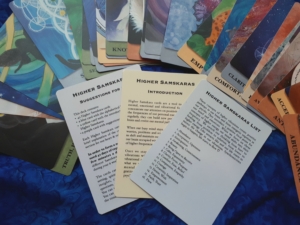 The cards are packaged in a convenient, non-woven mini tote bag. The bag has a velcro closure and comes in royal blue and purple.
ALL CARDS HAVE BEEN SMUDGED !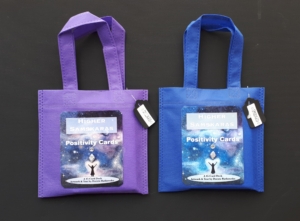 Price: 35$ Canadian plus shipping
No refunds will be issued
❀
ALL PRICES ARE IN CANADIAN DOLLARS
❀
SHIP TO CANADA
❀
SHIP TO U.S.
❀
SHIP INTERNATIONALLY
❀
PICK UP IN PERSON, NO SHIPPING
For TESTIMONIALS click HERE
If you would like to pay by e-transfer or pick up the cards in person (Toronto area), please contact Dorota
Higher Samskara cards are NOW available also at:
✦ Akasha's Den in Oakville
✦ Beyond Healing Pathways in Hamilton
✦ Breakthrough Centre in Brampton
✦ Hooked on Holistics in Stoney Creek
✦ The Mystic Tree in Burlington
The cards can be also purchased at Hamilton Holsitic Spring Healing Fair (McMaster Innovation Park) on March 31 and at Burlington Spiritual Symposium & Expo (Holiday Inn Burlington) on April 14.
For TESTIMONIALS click HERE