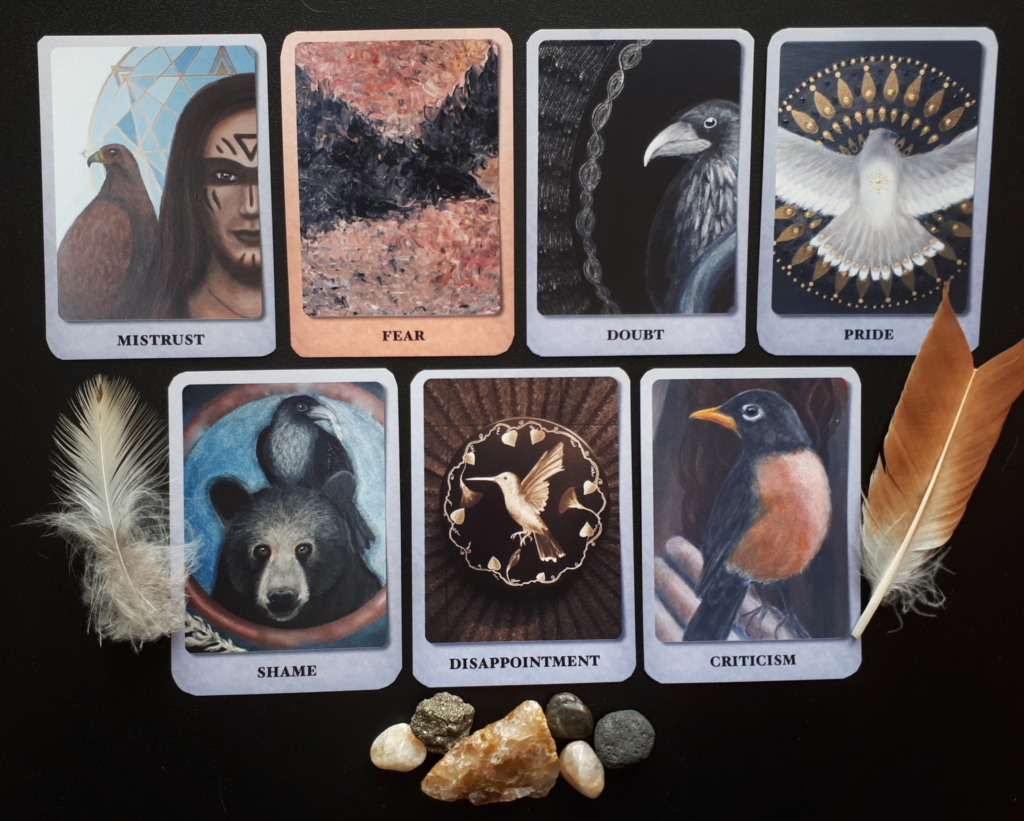 SHADOW SAMSKARA CARDS are here !!!
We are happy to announce that the brand new, unique and CANADIAN Shadow Samskara Cards are now available !

Shadow Samskaras are concepts of heavier vibrations that form energetic imprints in our psyche. They form our shadow self and reside in our subconsciousness.
Each card contains original art on the front. On the back, there a lesson, a series of questions and an affirmation.
The cards have been created in Canada and printed in Italy by a solar-powered company using food-grade inks. Shadow Samskara cards are 3.5″x 5″, have been printed on 330 gsm satin smooth, casino-quality paper. The cards have been varnished for easy shuffling and are tear and damage resistant.
Each deck contains 41 Shadow Samskara cards and 3 instruction cards: a grey one with the list of all Shadow Samskaras, a beige one with the introduction to the concept of Shadow Samskaras, and a teal one with suggestions for use.
This Shadow deck can be used for shadow work, meditation, mindfulness, inspiration, spiritual awakening, journal writing, healing, personal growth or as oracle cards.
Each deck has been packaged by hand and individually smudged.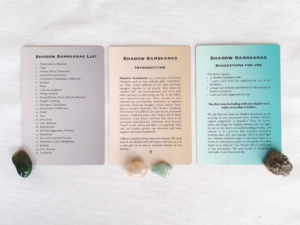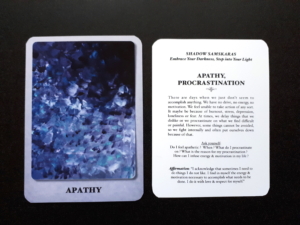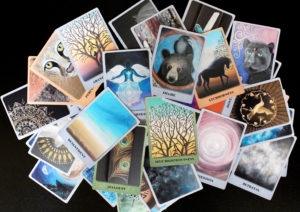 For TESTIMONIALS click HERE
The cards have been packaged in a convenient black cotton mini tote bag with velcro closure. Currently, we are introducing NEW PACKAGING: an 8″x6″ (20 cm x 15 cm) black cotton drawstring bag (see picture below). When placing your order, please indicate whether you would like your cards in a mini tote bag or a drawstring bag.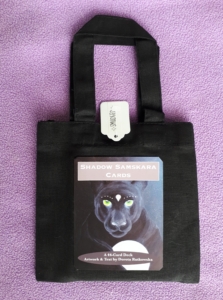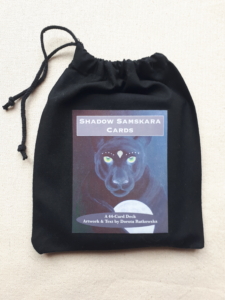 This is a sister deck to Higher Samskara POSITIVITY CARDS
Now available, a companion to the cards Shadow Samskara GUIDED JOURNAL/WORKBOOK
ALL CARDS HAVE BEEN PACKAGED BY HAND &  SMUDGED !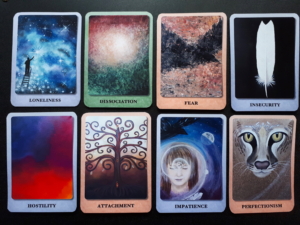 Price: 38$ Canadian plus shipping
No refunds will be issued
❀
ALL PRICES ARE IN CANADIAN DOLLARS
Cards mailed within Canada ship as EXPEDITED PARCEL with tracking.
Cards mailed to USA ship as TRACKED PACKET with tracking.
Cards mailed internationally ship as SMALL PACKET AIR with NO tracking.
If you would like to upgrade your shipping for an extra charge please contact DOROTA 
❀
SHIP TO CANADA
❀
SHIP TO U.S.
❀
SHIP INTERNATIONALLY
❀
PICK UP IN PERSON, NO SHIPPING
For TESTIMONIALS click HERE
If you would like to pay by e-transfer or pick up the cards in person (Toronto area), please contact Dorota
Shadow Samskara cards are NOW available also at:
✦ Akasha's Den in Oakville
✦ Beyond Healing Pathways in Hamilton
✦ Hooked on Holistics in Stoney Creek
✦ The Mystic Tree in Burlington
✦  Cosmic Hippie Boutique in Mahone Bay, Nova Scotia
For TESTIMONIALS click HERE