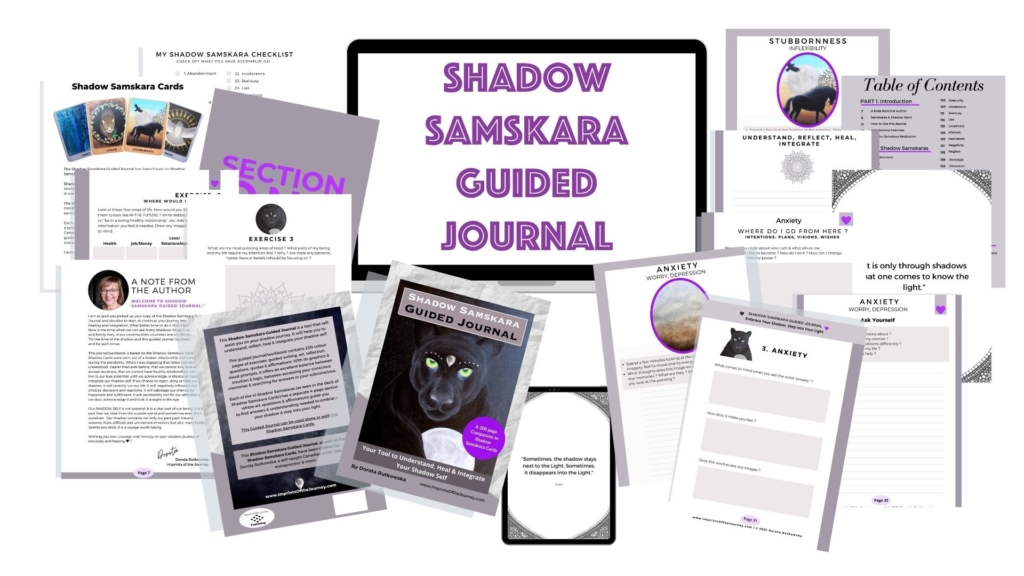 SHADOW SAMSKARA GUIDED JOURNAL is here !
The Shadow Samskara Guided Journal/Workbook is a tool that will help you understand, reflect, heal & integrate your shadow self. The journal will be your companion and guide when you explore the hidden side of self. It will help you honour your fears, look at your blocks and learn to fully love and accept yourself.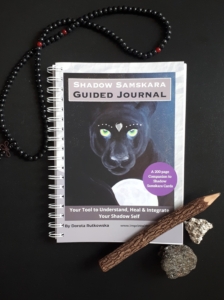 This guided journal/workbook measures 6.5″x 9.25″ (23.5cm x 16.5 cm). It contains 200 colour pages of exercises, guided writing, art, reflection, questions, quotes & affirmations. With its graphics & visual prompts, it offers an excellent balance between intuition & logic, between accessing your conscious memories & searching for answers in your subconscious.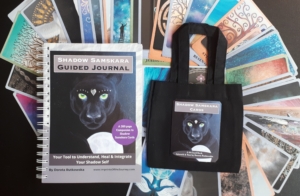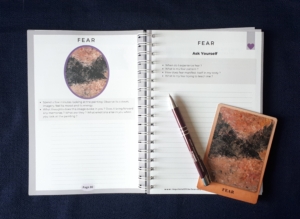 This Guided Journal is a companion to SHADOW SAMSKARA CARDS (meditation/oracle cards for shadow work). The journal can be used alone or with the cards
Each of the 41 Shadow Samskaras (as seen in the deck of the Shadow Samskara Cards) has a separate 4-page section where art, questions & affirmations guide you to find answers & understanding needed to embrace your shadow & step into your light.
This guided journal is an actual paper book. Our brain functions and processes information very differently when we physically write on paper. That is why the journal ONLY comes in paper version.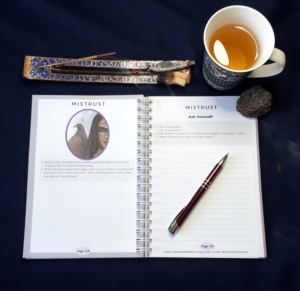 The journal was locally printed in Canada, has a soft-touch cover and wire-binding. It is easy to lay it flat and the uncoated paper makes the writing process smooth and pleasant.
Price: 38$ Canadian plus shipping
No refunds will be issued
❀
ALL PRICES ARE IN CANADIAN DOLLARS
Journal mailed within Canada ships as EXPEDITED PARCEL with tracking.
Journal mailed to USA ships as TRACKED PACKET with tracking.
Journal mailed internationally ships as SMALL PACKET AIR with NO tracking.
If you would like to upgrade your shipping for an extra charge please contact Dorota
❀
SHIP TO CANADA
❀
SHIP TO U.S.
❀
SHIP INTERNATIONALLY
❀
PICK UP IN PERSON, NO SHIPPING
❀ If you would like to pay by e-transfer or pick up the cards in person (Toronto area), please contact Dorota
For TESTIMONIALS click HERE