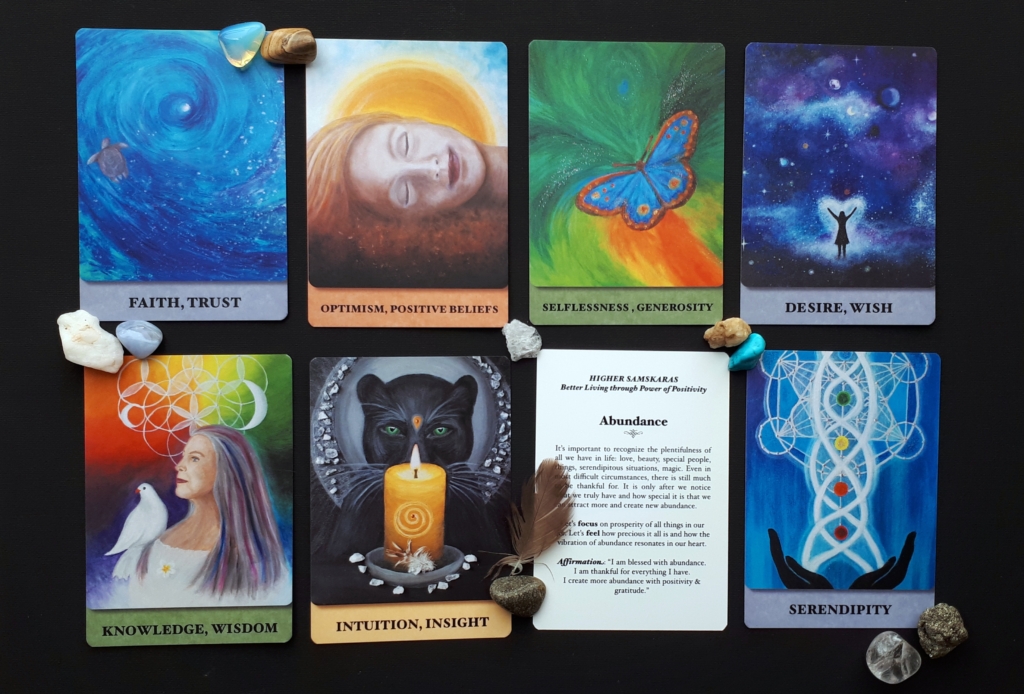 "HIGHER SAMSKARAS" Positivity Cards are here !!!
We are happy to announce that the second printing of the Positivity Cards is here. The first printing sold out in 3 months. Thank you all for your support !
Higher Samskaras are concepts of high vibrations that form energetic imprints in our psyche. They help us create a positivity habit, build new pathways in our brain and release emotional blockages. Each card contains on the back a brief explanation of the concept, a section for our heart and mind, and an affirmation.
The cards have been created in Canada and printed in Italy by a solar-powered company using food-grade inks. Higher Samskara cards are 3.5″x 5″, have been printed on 330 gsm satin smooth, casino-quality paper. The cards have been varnished for easy shuffling and are tear and damage resistant.
Each deck contains 42 Higher Samskara cards and 3 instruction cards: a blue one with the list of all Higher Samskaras, a yellow one with the introduction to the concept of Samskaras, and a purple one with suggestions for use.
This deck can be used for meditation, mindfulness, inspiration, spiritual awakening, journal writing, healing, personal growth or as oracle cards.
Each deck has been individually smudged.
For TESTIMONIALS click HERE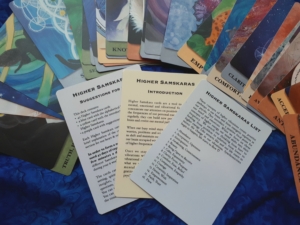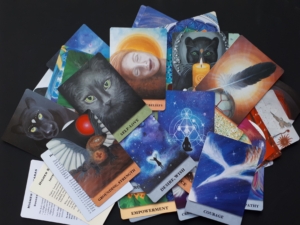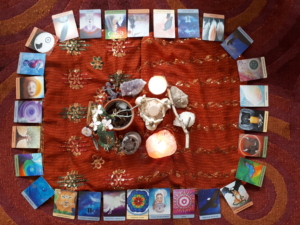 The cards are packaged in a convenient, non-woven mini tote bag. The bag has a velcro closure and comes in royal blue or purple. The limited edition cream canvas bags are sold out.
This is a sister deck to SHADOW SAMSKARA CARDS
ALL CARDS HAVE BEEN SMUDGED !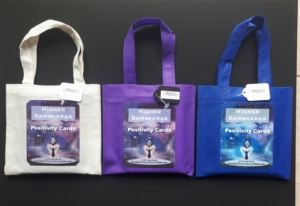 Price: 36$ Canadian plus shipping
No refunds will be issued
❀
ALL PRICES ARE IN CANADIAN DOLLARS
Cards mailed within Canada ship as EXPEDITED PARCEL with tracking.
Cards mailed to USA ship as TRACKED PACKET with tracking.
Cards mailed internationally ship as SMALL PACKET AIR with NO tracking.
If you would like to upgrade your shipping for an extra charge please contact DOROTA 
❀
SHIP TO CANADA
❀
SHIP TO U.S.
❀
SHIP INTERNATIONALLY
❀
PICK UP IN PERSON, NO SHIPPING
For TESTIMONIALS click HERE
If you would like to pay by e-transfer or pick up the cards in person (Toronto area), please contact Dorota
Higher Samskara cards are NOW available also at:
✦ Akasha's Den in Oakville
✦ Beyond Healing Pathways in Hamilton
✦ Hooked on Holistics in Stoney Creek
✦ The Mystic Tree in Burlington
✦ Cosmic Hippie Boutique in Mahone Bay, Nova Scotia
For TESTIMONIALS click HERE