TESTIMONIALS
Shadow Cards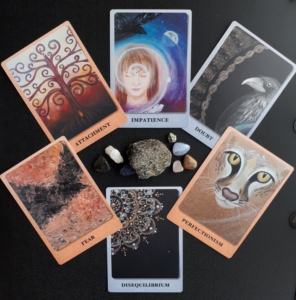 "Gorgeous artwork, excellent quality of cards with unique writings on each. Lovingly packed and smudged prior to sending. I love the whole thing, the vibe, the intent and the local artist ! Thank you !"
Heather
"Gorgeous deck. Soft, easy to riffle, shuffle and manipulate. Satin finish. Excellent narratives on reverse. Probative questions offered for personal inquiry/insight, journalling or discussion. I would agree these are excellent for shadow work, parts integration and personal growth work. I would order again and am already considering another Samskara Card deck."
B.R.
"Really impressed with this deck. I love the artwork, and find the passages on the back of the cards on point for doing the inner work with gentleness and grace. 💜 I really like the texture of the cards as well, and the size. Comes together nicely when laying out a spread."
Evonne
"Amazing deck along with the shadow book journal, thank you ! Highly recommend."
Stef
"Absolutely beautiful, the cards are very good quality and they came in their own pouch. These cards exceeded my expectations and I loved the packaging, it feels personal. Thank you."
Emily
"Such beautiful, well thought out cards. From the art to the colors, and the prompts on the back, all really help to get to the root. LOVE ! 💜"
Casey
"I love how this deck explores shadow energy in way that seeks to promote understanding and healing. The artwork is gorgeous and the cards are printed on quality card stock that shuffles easily and feels nice in the hand."
Renée
"BRILLIANT CONCEPT DOROTA ❤️
Never before have I experienced a technique of self discovery as when I drew my first card from the "SHADOW SAMSKARA" deck.
I have personally felt the need not to only focus on the positive aspects of my life, but to embrace the negative, no matter how difficult. This for me, brings balance, clarity and many learning moments to embrace my light and shadow self.
The SHADOW SAMSKARA Cards opened my mind to "aha" moments as I worked through the negative aspects of my past emerging like the Phoenix coming out of the ashes – strong and aware of my wise inner self.
DOROTA, words are not enough to express my gratitude for bringing "THE SHADOW" cards to everyone who dares to embrace their shadow self to inner freedom."
Lynne S.
"The Shadow Samskara cards have truly allowed me to look deep inside my soul and see what I considered to be my bad words. These eclectic cards hold a deep inner wisdom that has truly opened me up to inner healing. I am so thankful to Dorota for allowing herself to be guided by the realms of light to bring these beautiful cards and their healing power to Earth!
I had the amazing pleasure of making Dorota's acquaintance years ago in her drumming celebrations. The Samskara cards along with her drumming calibrations are truly magical and life changing. Dorota is kind, compassionate and patient. She delivers through the Shadow Cards some profound spiritual messages, insights and gems of wisdom. For anyone in search of spiritual guidance and counsel, I strongly recommend the Shadow Samskara Cards 🙏❤️."
Camille A.
"These cards are an absolute must-have for anyone who is interested in being the best version of themselves. I didn't realize the importance of shadow work until I used the cards. They have helped me bring to light those parts of me I sometimes refuse to see and I worked on them witnessing my life changing as a consequence. I am so excited, these cards are much more than oracle cards, they are a true tool for transformation! I highly recommend this deck."
Sandra S.
"I love using the Shadow Samskara Cards. At first I was nervous but the cards have such great energy and beautiful messages. Sending you love and light
."
Winona C.
"The Shadow cards are most amazing to work with. I am talking deep healing and releasing! Very powerful indeed! Such incredible art and work on each card, so very reflective and intuitive 
."
Tammy S.
"Thank you for bringing these cards out to us. They truly do bring focus to your shadow side, especially for people like me who sometimes are oblivious to our darkness. I now am aware and accepting and releasing what I need to.
"
Anthony B.
"Higher Samskaras" Positivity Cards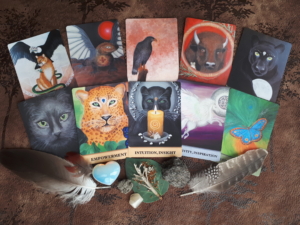 "These cards are really lovely – beautiful artwork, created with care, and good quality print. They are a wonderful tool for self reflection and growth, and have well written instructions on how to get the most from their use. Very happy to have purchased these, and would recommend them to those with an interest in personal growth."
Helen
"Really good quality cards, art is beautiful, wording is interesting and not trite. Lovely packaging and smudged before packing. Thank you so much. I really hope to gain some insight into the challenges I am facing !"
Heather
"Love this unique deck! The artwork is amazing and the card stock is exceptional quality. I purchased both the Higher and Shadow Samskara decks and I love using them together. I highly recommend getting both Samskara decks. The deck also works well as a stand alone deck or as a complimentary deck for readings with my other tarot and oracle cards."
Renée
"Dear Dorota,
Your little blue bag of enlightenment is brilliant. I can imagine how much work went into it.
Every card and every message is so beautifully presented and the paintings are a bonus.
You are very much in touch with the universe."
Sybil R.
"I am truly enjoying the cards. They spoke to me right away with a voice of a wise and gentle friend. They have been so much fun. The guidance is encouraging and empowering. The animals and images that grace these cards uplift my spirit. You have an amazing gift my friend. I look forward to your new inspirations."
Jennifer S.
"The cards feature beautiful original art and very inspirational messages. I am impressed by the quality and the vibration of love that comes out of these cards ♥️ They can be used for personal daily inspiration and also as oracle cards for personal or professional readings."
Silvia G.
"Higher Samskara readings have helped me a lot in finding guidance in a period of uncertainty. Always spot on, their beautiful words resonated deeply within me. I am truly grateful to Dorota for such an incredible work. I highly recommend the Higher Samskara cards to those who want the cards with images and words that bring messages needed to find balance, harmony and reconnect with the Higher Power."
Sandra S.
" I picked up a deck of these gorgeous and inspiring cards last night and took them to a reiki gathering today. Everyone raved about the beauty of the images and quality of the cards. This deck will be part of my daily ritual and I know I'll be taking it regularly to gatherings. Thank you !"
Kimeiko H.D.
"This is a deck that could change your life in 42 days. It truly allows a shift in your energy toward more positive thoughts and a higher vibrational existence, helping release blockages of an emotional kind. This deck contains 42 cards with vivid images on the front and lessons and affirmations on the back. A work of art and labour of love by Dorota who is the creator of the deck and the artist. The cards have a durable coating to make them last. They are packaged in either a purple or blue bag with a little bling!  This new release is a must-have for anyone looking for self-mastery."
Description of the Positivity deck by Hooked on Holistics
"I love the cards. They are beautiful. I know how powerful this deck is. I love that you made it. It is wonderful."
Whitney P.
Shadow Samskara Guided Journal/Workbook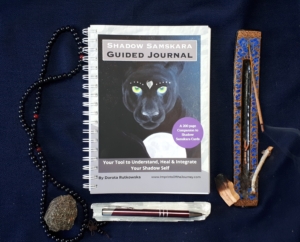 "Highly recommend !!!! Such a good shadow book and asks important questions that helps you further understand the things you need to address and work on in your life."
Stef
"Thank you so much ! The book and the deck are so beautiful ❤🙏🏾 I'm working with my shadow and they are amazing tools to support the journey of healing."
Cecilia
"Love this journal, it's thorough and easy to follow !"
Lisa
"I love the book and the prompts !"
Jeannette
"Absolutely amazing, thank you for helping me start to heal💜"
E.H.
"This book is amazing.  I can't tell you how much it's helping me. I'm finally starting to feel happy again and is helping every relationship I have right now."
Jen
"This journal far exceeds my expectations. I loved the sample oracle cards and cannot wait to order the deck. I felt such a sense of direction with this journal. It's safe to say I'm happy to finally have it in my hands. Highly recommended. "
M.P.
"I was very excited to start my healing journey with this journal. When it arrived, it exceeded my expectations so I ordered my sister one immediately. The quality, prompts, oracle cards, EVERYTHING IS PERFECT! Thank you!! "
A.D.
"Beautiful and well made journal! It is gorgeous, has amazing prompts, it guides and you can tell a lot of love and care went into making this ! Thank you ! "
A.
"Highly recommend!!!! Such a good shadow book and asks important questions that helps you further understand the things you need to address and work on in your life."
S.K.